PRODUCT DESCRIPTION
BMF vibrators of sizes from 00 to 04 are provided as standard with excentric weights on both sides of the shaft and with one only weight cover on the opposite side of the fixing flange.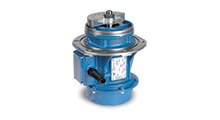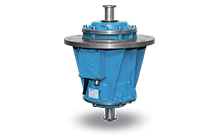 PRODUCT DESCRIPTION
BMF vibrators of sizes from 15 to 70 are NOT provided with eccentric weights, NOR weight protection covers. On request they can be supplied with regulation bushes with graded disc, eccentric weights and weights protection covers.
OMB manufactures a wide range of vibrating motors with flange fixation, covering all the applications needs on vibrating equipments for screening, finishing, drying and other processes that use vibrating motors with this fixing system.
Three-phase Input Voltage: 
Standard executions 50Hz 220-230/380-400V; 60Hz 220-240/440-480V (for series EVR-EVS 50Hz 380-400V; 60Hz 440-480V). Special input voltages available on request.
Speed (vibrations/minute):
| | | | |
| --- | --- | --- | --- |
| Standard: | 2 poles: 3000 rpm – 50Hz | 3600 rpm – 60Hz | (BMF sizes from 00 to 04; BMF-ST) |
|   | 4 poles: 1500 rpm – 50Hz | 1800 rpm – 60Hz | (BMF; BMF-C; BMF-ST; EVR; EVS) |
|   | 6 poles: 1000 rpm – 50Hz | 1200 rpm – 60Hz | (BMF sizes from 15 to 70; EVR; EVS) |
On request:
Speeds not listed as standard   Two speeds motors 3000/1500rpm or 1500/1000rpm
Duty
Continuous duty at the maximum centrifugal force (S1), with the possibility to adjust the force from 0 to 100% following the specific graded plate on the eccentric weights (for those series/models supplied by OMB complete with weights).
Electric Motor 
Electric motor realized with low loss silicium magnetic lamination core allowing to increase the efficiency while reducing heating up.
Insulation Class
F standard, H on request.
Tropicalisation 
Windings impregnation realized with ASTM system, with polyester resin class H.
Ambient Temperature 
From -20°C a +40°C (-4°F/104°F).
Overheating Protection 
Electric motor protected by thermistor (PTC set at 130°C) as standard for sizes 50 and 70 (available on request on smaller sizes).
Motor Shaft 
Shafts in NiCrMo steel, heat treated.
Main Body 
Mechanical structure designed to withstand the high stresses, realized in cast iron (starting from size 03) or in high resistance aluminum (up to size 02).
Painting 
Electrostatic powder painting, epoxy-polyester, polymerized in oven. Color: Blue RAL 5010.
Bearings and Lubrication
High load capacity bearings, in special executions to withstand the stresses of high centrifugal forces and vibrations, over-dimensioned to grant maximum reliability in vertical use. Special "Long Life" grease lubrication. Mechanical seals with low friction to grant excellent protection, without over-heating and without extra power absorption, keeping their efficiency for long time. Some models as a standard, others on request, are provided with bearing housing with double lubrication entry, to grant that lubrication grease inlet is always from upper side of the bearing.
Available on request 
Anti-condensation heaters
Weight covers for all models
Stainless steel weight covers